Addis Ababa, September 22, 2023 – A significant milestone in the sphere of workers' rights has come to fruition in the Horn of Africa, with the formalisation today of a ground-breaking union-to-union agreement between the Confederation of Ethiopian Trade Unions (CETU) and the Federation of Somali Trade Unions (FESTU). This landmark accord, expertly crafted and supported by the International Labour Organisation (ILO), stands as an extraordinary demonstration of collaboration among national trade union organisations on the African continent, marking it as the pioneering agreement of its kind.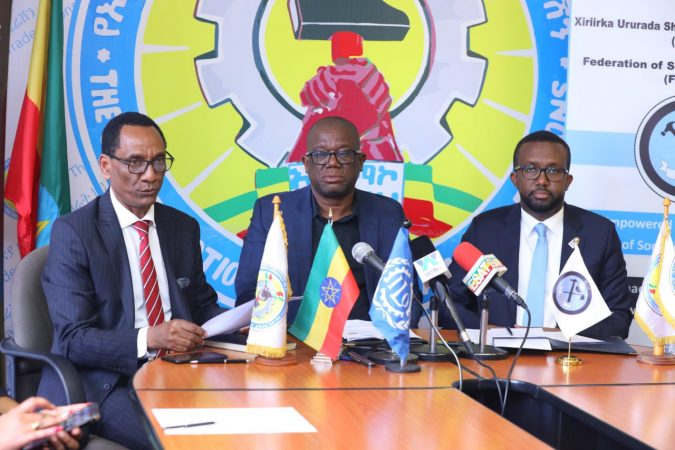 The two national trade union organisations have made it clear that the central focus of this historic accord revolves around the comprehensive pursuit of the 3Ps: Promoting workers' rights, Protecting workers' rights, and Preventing abuses of workers' rights. This agreement places special importance on ensuring the rights of migrant workers are safeguarded. It is a steadfast commitment to not only protect but actively promote the rights of migrant workers, acting as a strong shield against any injustices they may face. This dedication extends far beyond the borders of Ethiopia and Somalia, embodying a broader commitment to labour rights that transcends geographical boundaries.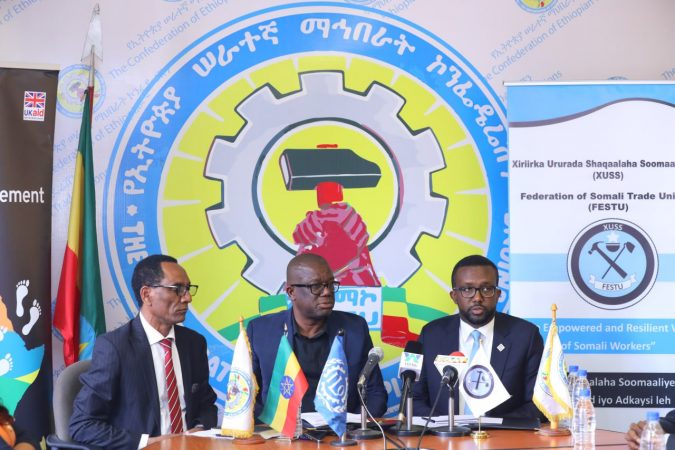 Ethiopia and Somalia – serving as origin, transit and destination countries for migrant workers – shoulder significant responsibilities in safeguarding the well-being of these workers. This pioneering agreement underscores the unwavering commitment of CETU and FESTU to upholding international labour standards and serves as a testament to the enduring spirit of trade union solidarity between Somalia and Ethiopia.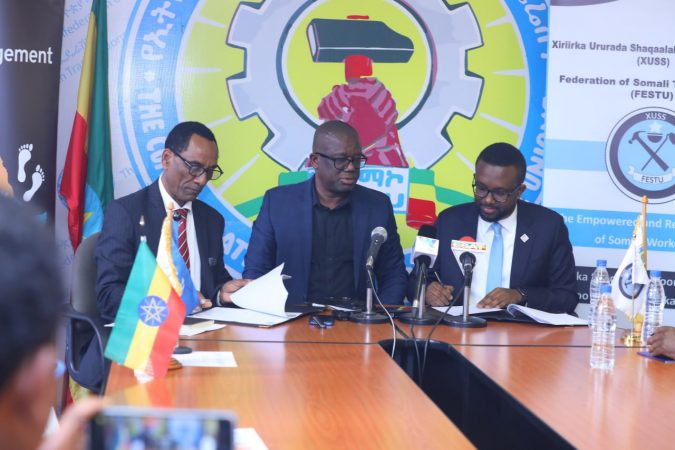 Mr. Alexio Musindo, the Director of the International Labour Organization (ILO) for the Horn of Africa countries, expressed the ILO's wholehearted enthusiasm for this ground-breaking collaboration between the trade union organizations of Somalia and Ethiopia. He stated, "The signing of this union-to-union agreement marks a significant leap forward for workers' rights, not only within Ethiopia and Somalia but also sets a positive precedent for the entire African continent. It reaffirms the paramount importance of collaboration and solidarity in safeguarding the rights of migrant workers. The ILO takes pride in having facilitated this milestone achievement and is eager to provide unwavering support for the concrete actions that these two trade union organizations will undertake under this cooperation agreement."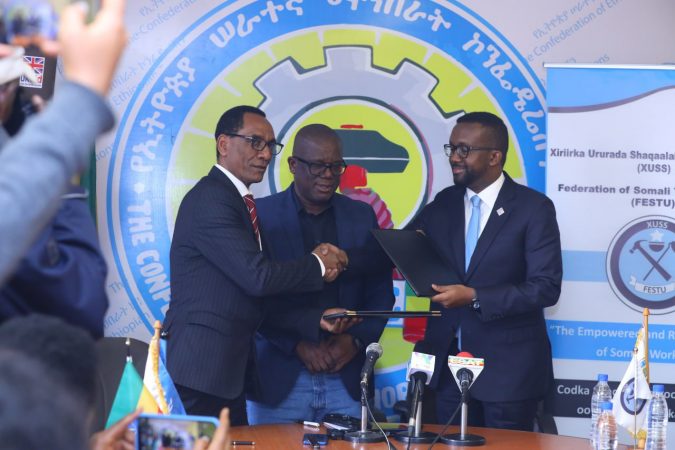 Speaking on behalf of the Ethiopian trade union movement, CETU President, Mr. Kassahun Follo underscored the significance of this cooperative agreement for Ethiopian workers. He stated, "This agreement marks a crucial moment in our ongoing efforts to uphold the rights and dignity of migrant workers. CETU is fully committed to working in close cooperation with our sister federation, FESTU, to address the challenges faced by migrant workers. Together, we form a united front with a common trade union mission, ready to positively impact the rights of migrant workers."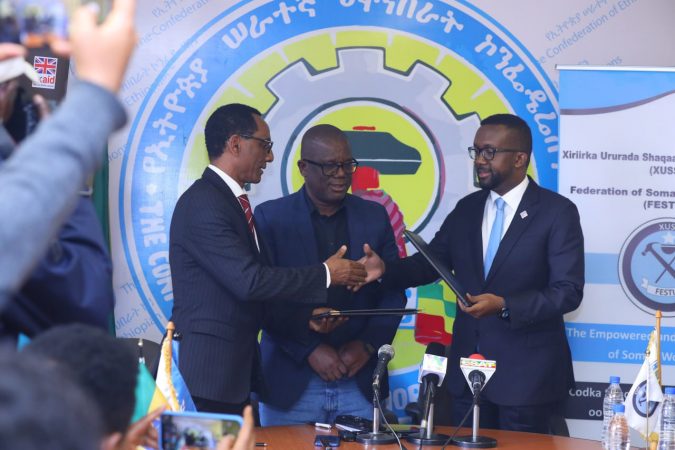 Speaking on behalf of Somali workers at the signing ceremony, FESTU General Secretary, Mr. Omar Faruk Osman passionately emphasised the vital role of trade union unity and solidarity in securing the rights of Somali workers under this agreement. He declared, "FESTU stands with unwavering pride alongside CETU and the ILO in this historic endeavour. Our agreement signifies an unprecedented stride in the realm of labour migration. Together, we solemnly commit to taking decisive actions aimed at safeguarding and advancing the rights of migrant workers, not only within the borders of Ethiopia and Somalia but also as we extend our reach beyond."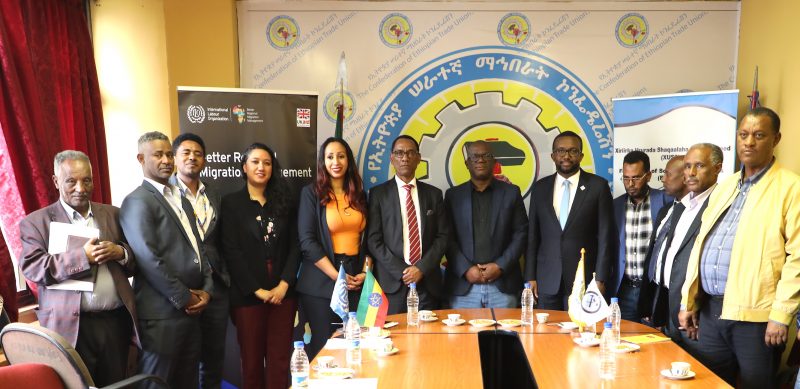 Under this agreement, CETU and FESTU will harness their trade union solidarity to execute a range of actions, spanning Ethiopia, Somalia, the broader Horn of Africa, and transcending national borders, all aimed at advancing the cause of migrant workers' rights. This collaboration not only fortifies the ties between these neighbouring countries and sisterly trade union organisations but also establishes a precedent for enhanced cooperation across various domains.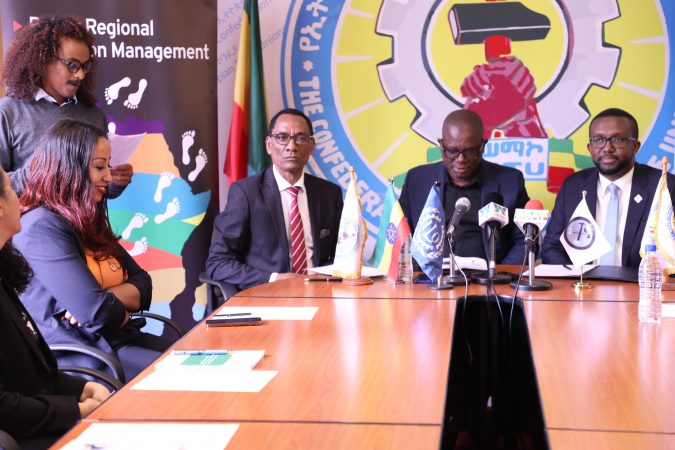 This great achievement was made possible thanks to continuous support from the International Labour Organisation's (ILO) Better Regional Migration Management (BRMM) program, generously funded by the United Kingdom's Foreign, Commonwealth & Development Office (FCDO). With this crucial support, the union-to-union agreement between CETU and FESTU is in a strong position to make a lasting impact, not only in Ethiopia and Somalia but also as a positive example of protecting workers' rights worldwide.