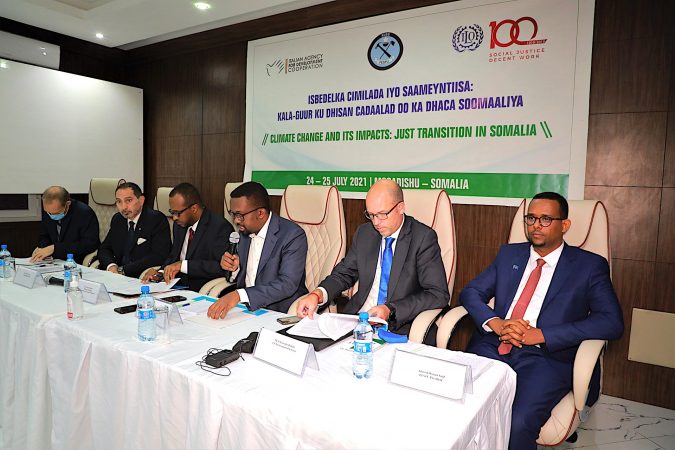 The Federation of Somali Trade Unions (FESTU) in partnership with the International Labour Organisation (ILO) organised a National Workshop on Climate Change and Its Impact to address the environmental crisis that has triggered imbalances among the three pillars of sustainable development namely: economic development, social development and ecological preservation as this global crisis particularly continues to poses in Somalia great risks to food security, health, poverty eradication, water availability, and intensified the displacement of whole communities and heightened instability and armed conflicts when Somali workers, lower-income communities, women and children are among the worst hit by this unprecedented crisis.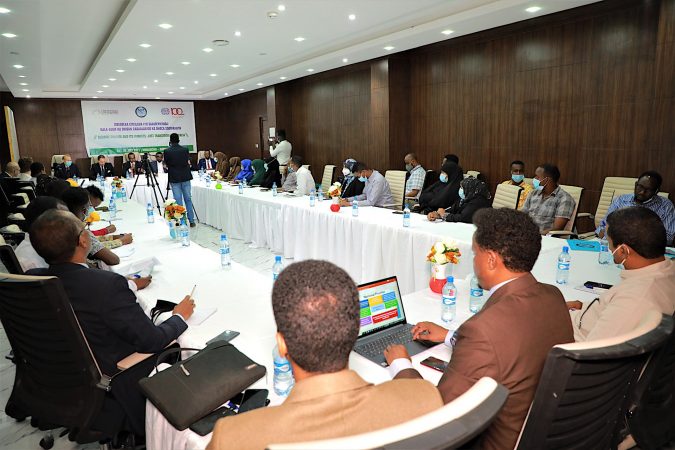 The national workshop held in Mogadishu from 24 to 25 July 2021 brought together over 45 participants from 12 trade union organisations affiliated to the Federation of Somali Trade Unions (FESTU), Federal Government officials & international partners that deliberated on the theme "Climate Change and its Impact: Just Transition in Somalia." The workshop was financially supported by the Italian Agency for Development Cooperation (AICS).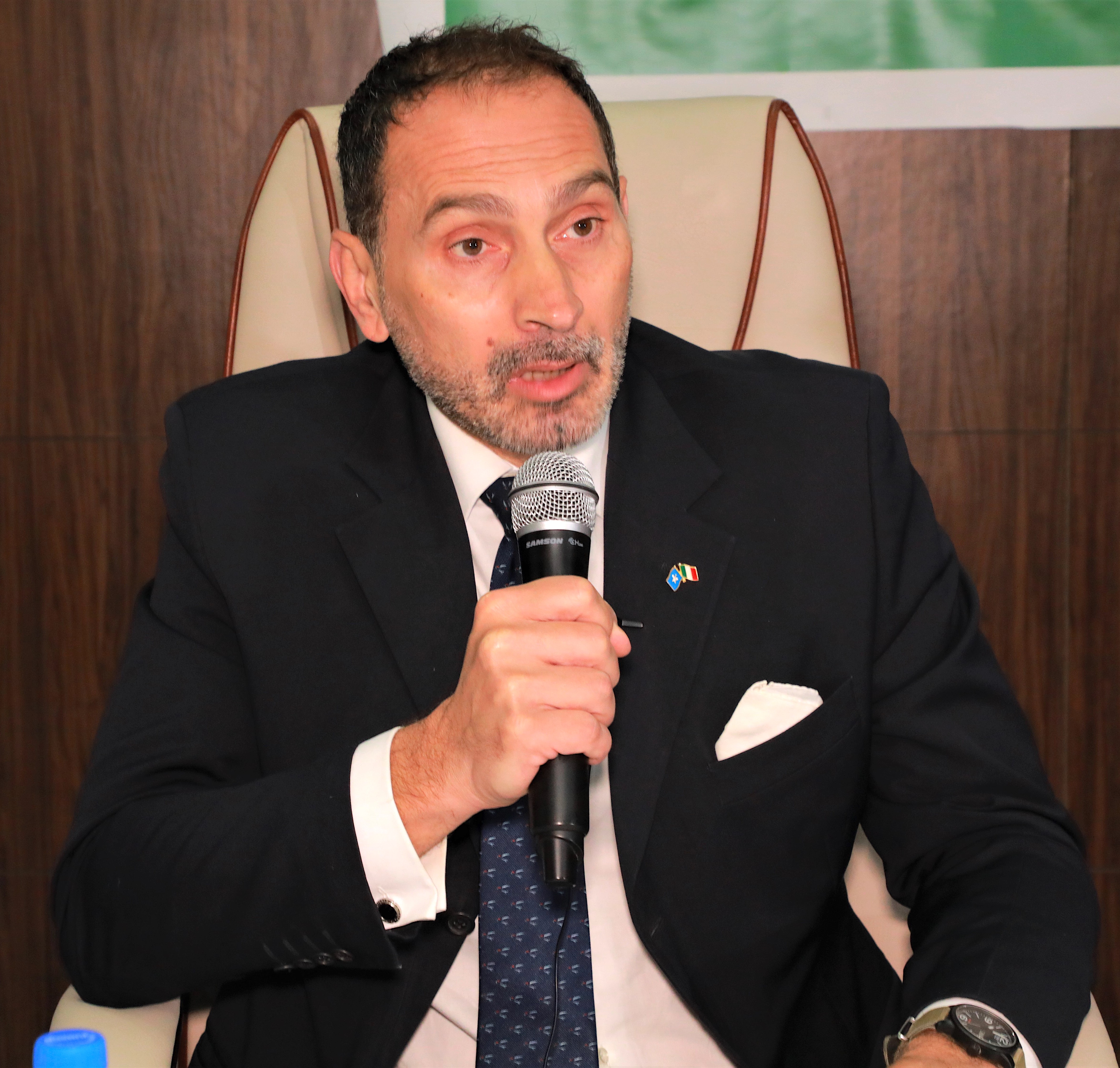 The Italian Ambassador to Somalia, Ambassador Alberto Vecchi, in addressing participants during the opening ceremony underscored that the solution to the climate change crisis must be a long-term strategy, one that requires sustained investment aimed at making vulnerable communities resilient. "This implies and requires the engagement of the civil society organisations, in particular the trade unions" he said while emphasising that the "great injustice of the climate crisis is that its effects fall most on those least responsible".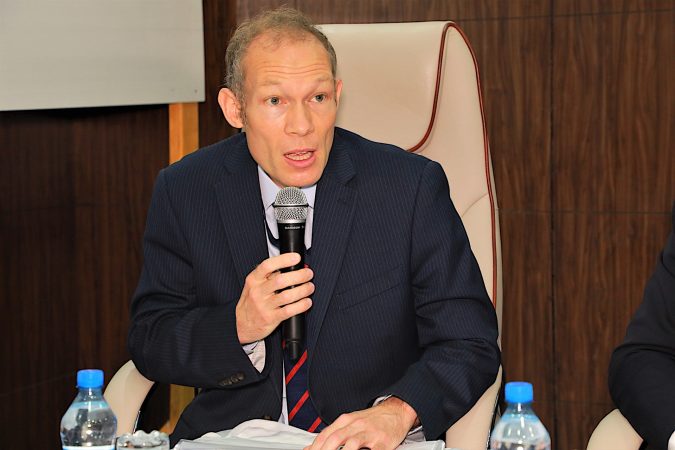 UK Deputy Ambassador to Somalia Richard Slack stated in his opening remarks that "climate change is not fair – it does not affect all countries equally. Somalia contributes a very low amount to global emissions, yet it is one of the countries most affected by rising global temperatures". "We must work together to better understand – and build resilience to – the climate extremes that are so devastating for the Somali people, whilst protecting the environment on which their livelihoods depend" he added.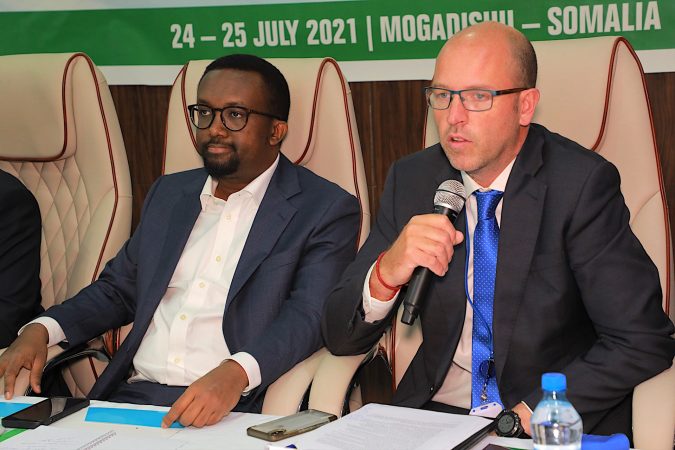 "Investments in green economic development can create jobs, provide energy and offer services needed in the Somali urban centres to alleviate growing poverty and displacement patterns. In sustainable development, government ownership and leadership as well as collaboration with the private sector are crucial" said Christophe Hodder, UN Climate Security and Environment Advisor to Somalia.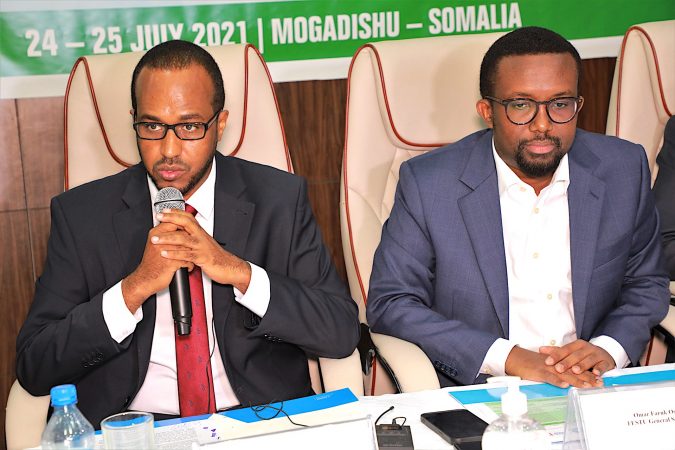 The national workshop was officially opened by the Federal Minister of Planning, Investment & Economic Development, Ambassador Gamal Mohamed Hassan. He said, "greening economies will strengthen Somalia's ability to manage natural resources in a sustainable manner, increase energy efficiency and reduce waste, while fighting unemployment, poverty and inequality and building resilience".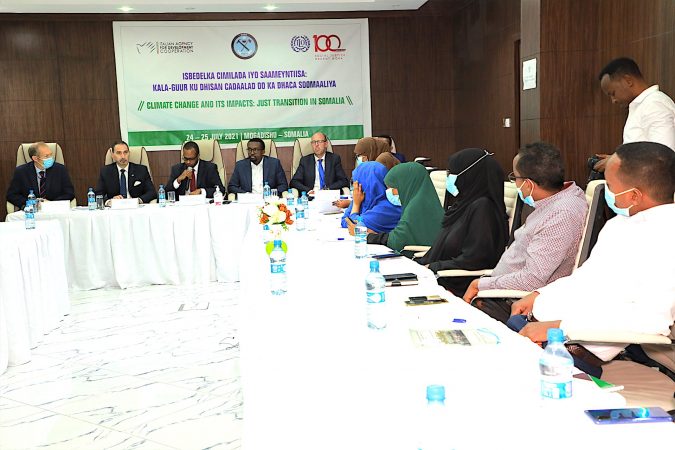 "As a government we will strive to integrate value-added just transition measures in our National Determined Contributions (NDC) by promoting sound responsible investments which are based on sustainable green economy and just transition practices and social dialogue between government, workers and employees for a just transition" stressed Minister Gamal Hassan.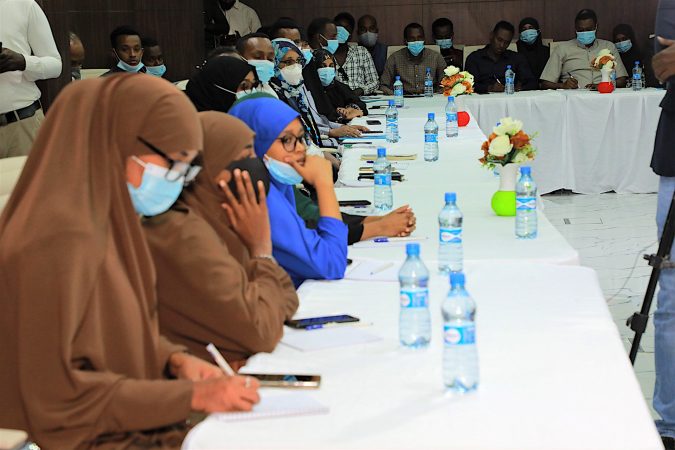 The international treaty on climate change dubbed as "The Paris Agreement," adopted at the 21st session of the Conference of the Parties (COP-21) in December 2015, requires that the Federal Government of Somalia outlines and communicate post-2020 national climate plans that include Just Transition measures. This informed the angle and focus of the just ended national workshop.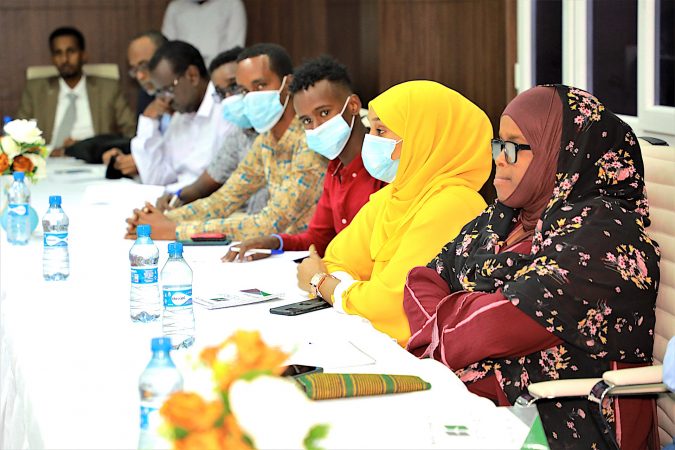 The workshop was a platform for interaction, with input from the United Nations Environment Programme (UNEP), the United Nations Industrial Development Organization (UNIDO), ILO-ACTRAV and the Directorate of Environment and Climate Change of the Prime Minister of Somalia.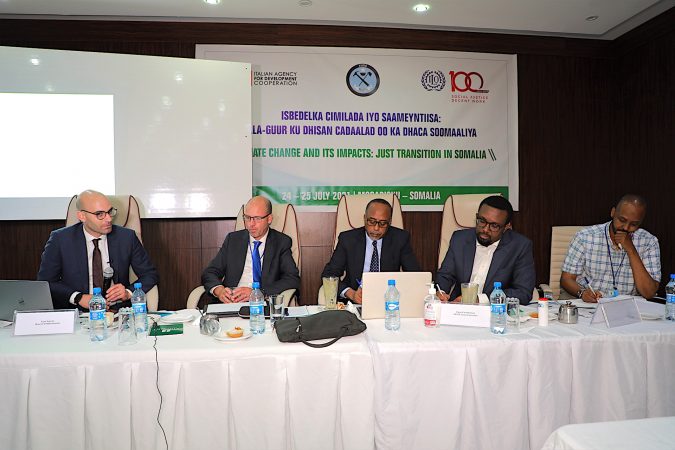 Discussions were framed around the United Nations Framework Convention on Climate Change (UNFCCC) process and Somalia's meaningful participation in the upcoming COP-26 scheduled for Glasgow, Scotland in November 2021. A roadmap, Road to Glasgow, developed with support from ILO-ACTRAV, was adopted during the workshop. This framework encompasses the issues that FESTU and its affiliates will be pursuing in the run up to COP-26 and beyond.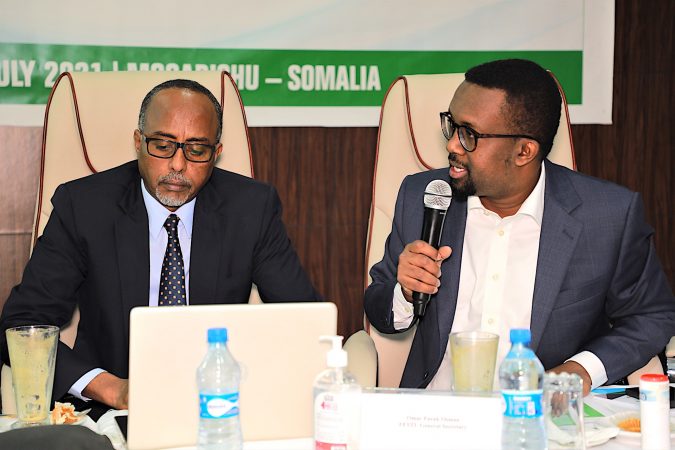 "It is imperative that trade unions in Somalia not only promote and defend jobs but also concern themselves with the environmental conditions under which jobs are currently created and sustained. Organized labour in Somalia actually need to understand fully that the jobs we fight for must also be jobs that are sustainable and help preserve the environment" said Omar Faruk Osman, FESTU general secretary.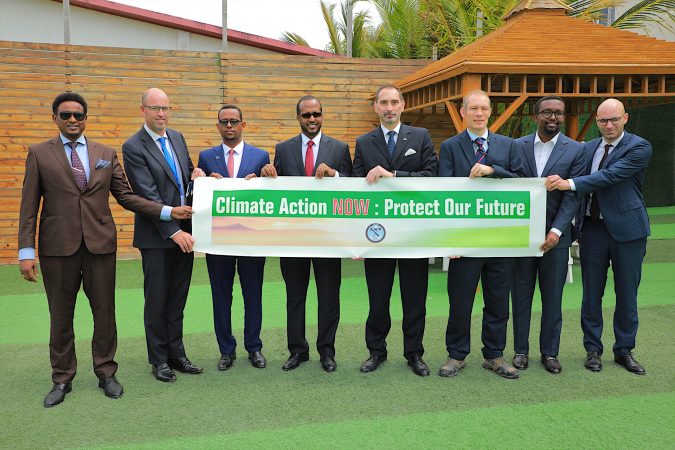 "Somali workers and their livelihoods are adversely affected across all economic sectors by climate change and the wider environmental crisis. As workers organizations, government and international partners, we need to join hands in the fight to save our planet today and protect our future," added Osman.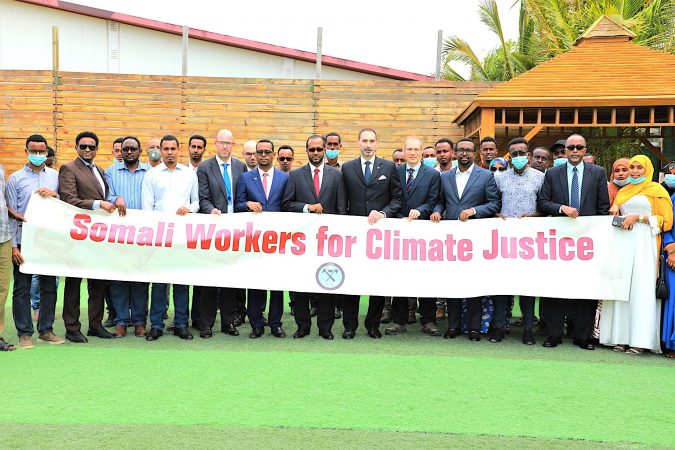 The workshop was ground-breaking for a number of reasons: it was the first time the trade unions of Somalia adopted a clear and well-articulated advocacy position paper on the role of trade unions on climate change and just transition measures. With climate change affecting workers and their families, it is only fitting that workers are informed on climate change issues and involved in national efforts towards a green economy.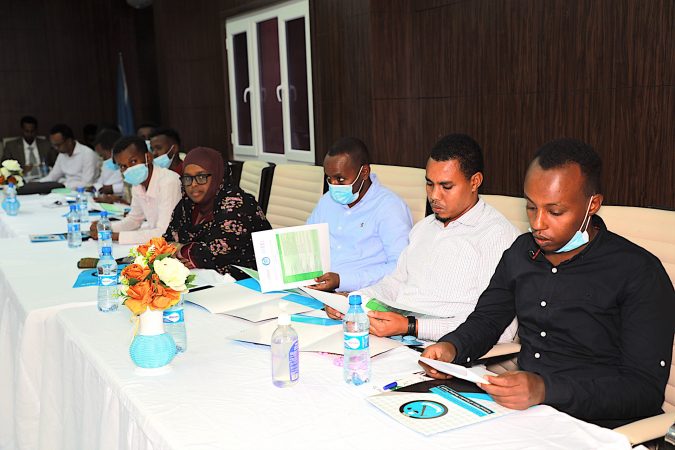 The national workshop was successful in terms of building the capacity of Somali trade unions in the areas of climate change policies, green jobs, just transition and decent work. Specifically, it contributed to:
Developing an understanding of climate change challenges and related mitigation and adaptation issues, and their consequences for employment and national development.
Understanding the environment protection challenges facing Somalia, including the dangers posed by climate change to economic and social development, workers' employment and working conditions and livelihoods.
Considering adaptation and mitigation concepts in response to climate change and the evolving role that trade unions play in the formulation and implementation of environmental policies.
Understanding the notion of Just Transition and its relevance for developing responses to addressing climate change issues in Somalia, including green jobs strategies.
Developing concrete actions on climate change for implementation at the national and federal levels, including Somalia's inclusive participation in COP-26.
Developing an effective advocacy network among the national trade unions to facilitate information and experience sharing among leaders and officers who are directly involved in policy-making processes aimed at promoting Just Transition and Decent Work for All.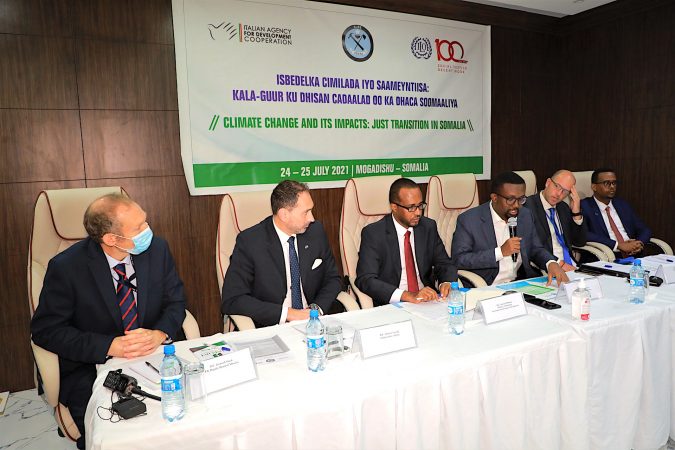 The urgency of addressing climate change challenges facing Somalia was appreciated by all who participated in the workshop. In particular, workers' representatives noted that measures to address climate change and reduce the emission of greenhouse gases will positively affect workers' livelihoods, employment and incomes. Therefore, an alternative approach – rather than a "business as usual" stance – is inevitable if Somalia is to make any real progress towards sustainable development.