Theme: Organizing for Our Rights, Dignity and Protection
Today we honour the sacrifices, struggles and contributions of millions of workers and their families to the rise and development of Somalia. We can never know the true costs of their efforts but we are certain that without their labour and commitment, the stability, economy and social landscape of our nation will be in peril. In short, our labour is the source of all wealth and life. One day out of 365 is not nearly sufficient to express our gratitude to workers whose very essence, sweat and toil make living possible.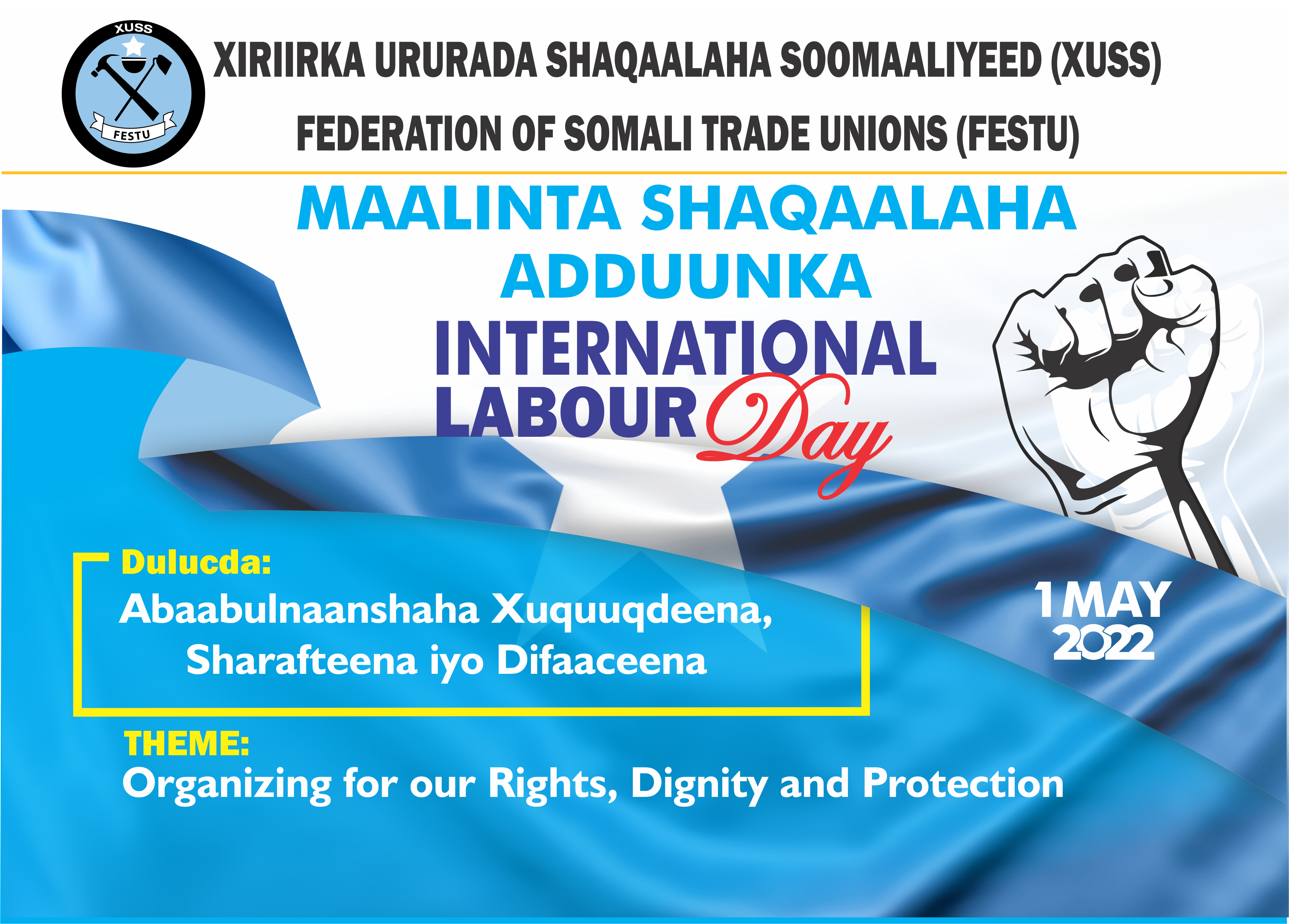 Today we not only extend our deepest appreciation but take the opportunity to reflect on our victories and remobilise for our battles. Despite the essential role that workers play in our society, their contributions, their human rights and security are nowhere near guaranteed. On this day, we amplify our demands as trade unions. We tell government officials and employers that the Federation of Somali Trade Unions (FESTU) will continue to fight the struggles of the working people.
Rallying against the continued precarious conditions
The impact of the COVID-19 pandemic continues to be far-reaching. It seeped into our workplaces, homes and lives, affecting how we earn, relate to each other and mourn our loved ones. Workers undoubtedly felt the brunt of this, losing income, jobs and in many cases, being exploited and unprotected by unscrupulous employers. With workers being unable to feed their families and enjoy even a modicum of decency entitled to all, FESTU has been relentless in its work and breaking the impasse with employers on their failures to pay salary arrears. Our undying commitment to fight for political, economic and social justice has continued in the past year.
While the pandemic certainly ushered us into uncertain territory from an economic perspective, in every and all situations, workers have the right to refuse dangerous work that is detrimental to their health and well-being. We have been continuously challenging those employers who harass and pressure workers to work without the necessary protections.
Today we are fortified by some of our successes in the area of workers' rights such as the successful litigation of employers for violating workers' rights up to and including our case in the Supreme Court. But we won't rest – achieving a judgement is only the first step, enforcing the court orders is still a major challenge as without this, change cannot be actualised and enjoyed. Therefore, we will continue the fight until policies, legislations, court orders and the like are implemented and translated into real change that is felt at the individual and familial level.
Demands to the new government
We support political change but not at the expense of workers' rights. For too many decades the socio-economic rights of workers have been ignored or outrightly violated. More recently, our demands have been falling on deaf ears as the government and its officials focus a significant amount of attention on the elections, political in-fighting and a personal and political desire to keep their electoral seats.
For many months we have fought for a one-person-one-vote electoral system. This has not materialised as the country mistakenly allowed itself to be influenced by a number of politicians who argued for indirect rather than direct elections. We are forced to work within this inadequate system and are doing our best to champion the rights of workers within it. We congratulate our colleagues who were successful and now form part of the federal parliament. We are certain they will continue the fight for the workers and their families, and advance the agenda for social justice within the formal political arena.
Within the new political dispensation, we will intensify our work and demands for the fundamental rights such as freedom of assembly, freedom of speech, freedom of association, media freedom, right to life, right to liberty and security of persons, among many others. The pillars of our country's fragility, vulnerability and under-development are well known and can no longer go unchecked – endemic corruption, poor governance, illicit financial outflows, and lack of constitutionalism and rule of law must and will be challenged.
We are making it clear to the new government which will soon be in place after presidential elections that without democracy and constitutional freedoms, there is no prosperity and dignity for workers and citizens of Somalia.
FESTU demands the new government and employers to provide adequate safety nets for citizens and workers during these difficult times. The decimation of workplaces particularly in the informal economy, retrenchments, wage cuts and various labour violations have led to the incapacitation of workers and an exploitative labour culture. We will mount a very robust campaign for realisation of decent work agenda in this country. The revised draft labour law must be enacted without any further delay. Slave wages and wage theft cannot be allowed to fester and flourish; we are making the restoring of the wage value in the next four years our top priority.
Collective Power
To go far, we must go together. We are mobilising workers, whether organised or not, to fight the good fight for the sake of advancing social justice agenda. We call upon students, communities, civic society activists, religious leaders, political players, farmers and all those who want to see a democratic, peaceful and thriving Somalia to join this movement for freedom, justice and equality.
It is only the collective power of a united active citizenry, a power used peacefully, consistently and persistently that will stand against the multifaceted forms of injustices in this country.
Working women and men of Somalia, we need to address the underlying causes of slave wages and exploitations as a united front with urgency. No one is spared and none but ourselves will liberate us. Victory on these demands is possible if we are resolute.
We pray to Allah that we find each other and fight for the working-class interests and emancipate the working people of this country from the jaws of the brute exploiters and abusers. 2022 is undefined in many areas but our demands and needs are certain so let us not tire until we achieve them.
ISSUED BY:
Omar Faruk Osman, General Secretary of Federation of Somali Trade Unions (FESTU)