Mogadishu, Somalia, 7 September 2020 – To gaining a better understanding of the impact of the COVID-19 pandemic on jobs losses and income and to provide concrete guidance on how to best support the majority of Somali society, the Federation of Somali Trade Unions (FESTU) released today a survey report on the impact of COVID-19 on Somali workers after administering an online survey to workers in a range of sectors. A total of 1,927 survey respondents were drawn from the transport, commercial services, energy, hospitality, informal economy, education, media, telecommunications, agriculture, electricity, building and construction, clothing/textile, and petroleum sectors.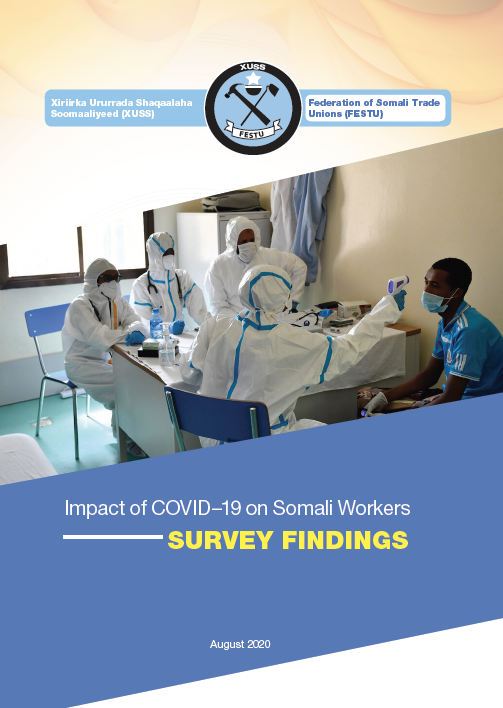 The new survey report highlights ways in which the COVID–19 pandemic is placing enormous strain on Somali workers, particularly in the private sector, who unlike public sector employees, are subjected to strict principles of no work no pay.
"We found there to be a lack of responsibility and consideration from many employers for the dangers posed by COVID–19," says Omar Faruk Osman, FESTU's General Secretary. "Employers are routinely failing to provide sufficient personal protective equipment (PPE), suitable sanitation facilities, face masks and hand sanitizers to workers. There is also little effort in enacting and enforcing policies relating to social distancing."
The issue of employers refusing to pay decent living wages during the pandemic is prevalent throughout the survey findings. In response to the harsh economic climate brought on by COVID–19, employers are reducing hours and wages with no or little consultation with employees and/or union representatives. Where workers aren't dealing with the issue of low pages, they are battling with employers refusing to pay at all. This naturally has a severe impact on workers being able to support their families and households, given in particular, the soaring prices of rice, sorghum and maize since the beginning of the lockdown.
The survey findings show that the negative economic impact of COVID–19 is also resulting in an increased and over–representation of women in the informal sector or in precarious jobs. As in most societies, women will often resort to taking poorly–paid and risky jobs to get money for the household.
The inability of employers to devise a comprehensive strategy and appropriate measures to prevent further job losses is leading to considerable anxiety among the workforce. In far too many instances, respondents complained of suspension and termination of employees without compensation and without proper labour-related processes being carried out.
It is acknowledged that COVID-19 is causing unprecedented economic fallout. However, the deliberate decision by employers to terminate contracts without consultation is unlawful and nefarious, suggesting there is a parallel objective to destabilise the trade union movement. "The lack of consultation with workers and unions can be viewed as a systematic attempt to weaken the power of workers, while citing COVID–19 as an extenuating circumstance," says Osman, adding that FESTU has been very active in championing for workers' rights, meeting with government and employers and making the case for supporting workers with a decent wage during this period. "We learned of employers encouraging the formation of small associations and not recognizing independent unions."
The survey provided much needed evidence for FESTU to continue its advocacy for the establishment of comprehensive social protection and social security systems in Somalia, guided by International Labour Organisation frameworks. "We also strongly recommend the establishment of a job retention scheme co–financed by the employer and the employee that can save the fate of workers who lose their jobs until they are able to find another job," says Osman. "Unless and until trade unions realize living wages for the working population, our battle against poverty, inequality and informality will be far from over in Somalia. "
About FESTU
The Federation of Somali Trade Unions (FESTU) was founded in 2010 on the principles of free, independent and democratic trade unionism that effectively and boldly seeks to represent the interests of Somali workers and that of the affiliated unions. Currently affiliated with 12 individual unions, FESTU is a valiant voice, fighting for workers' rights by striving for just standards of living and fair conditions of work for all, whilst enhancing the visibility of Somali trade unions and ensuring workers' participation in the struggle for peace and social justice. FESTU is affiliated to the International Trade Unions Confederation (ITUC), the African Regional Organisation of International Trade Unions Confederation (ITUC-Africa) and the Horn of Africa Confederation of Trade Unions. It is accredited to the International Labour Organisation (ILO).