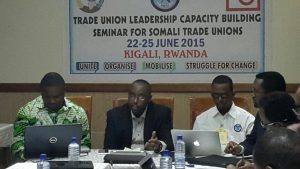 Senior trade union leaders and activists from the Federation of Somali Trade Unions (FESTU) and affiliated industrial union took part a trade union leadership seminar held in Kigali, Rwanda, on 22-25 June 2015.
The seminar, which was organised by FESTU and Africa Regional Organisation of International Trade Union Confederation (ITUC-Africa) was supported by Swedish Trade Unions Confederation (LO-Sweden) and Olof Palme International Center.
Eric Manzi, Secretary General of Centrale des syndicats des travailleurs du Rwanda (CESTRAR) welcomed Somali trade union leaders and officials from International Trade Union Community in Kigali. Manzi reiterated CESTRAR's support to FESTU and affiliated trade unions.
Trade union leaders and activists who were selected from sectoral trade unions of transport, agriculture, hotel, textile, media, telecommunication, maritime, health and construction, were trained on variety of topics including trade union administration and organizational skills; trade union and contribution to nation & peace [re]building; existing national & International instruments supporting trade union formation and operation; trade union internal democracy and trade union financing; and labour rights, laws and regulations.
"Recognizing the existing situation in Somalia, and the major constraints pertaining to skills and capacities deficit among workers, the need for training on organizational and leadership skills has become increasingly apparent for the leaders in Somali trade unions so that labour leaders can play vital role in promoting harmonious relations between workers and employers and creating peace at the workplace through safeguarding the rights and interests of the workers within the limits of law," said Omar Faruk Osman, FESTU General Secretary.
Officials from ITUC-Africa, LO Sweden and Olof Palme International Center attended the 4-day seminar and convened fraternal greetings and solidarity support from their respective leaders to FESTU and its affiliated trade unions.
Joel Akhator ODIGIE, Coordinator of Human and Trade Union Rights of ITUC Africa and Leif Isaksson, International Officer of LO Sweden made authoritative presentations on why trade unions exist and how they are best administered.  Honourable Abdirahman Hosh Jibril, a learned labour law lawyer and member of Federal Parliament of Somalia was among prominent experts who made several presentations.