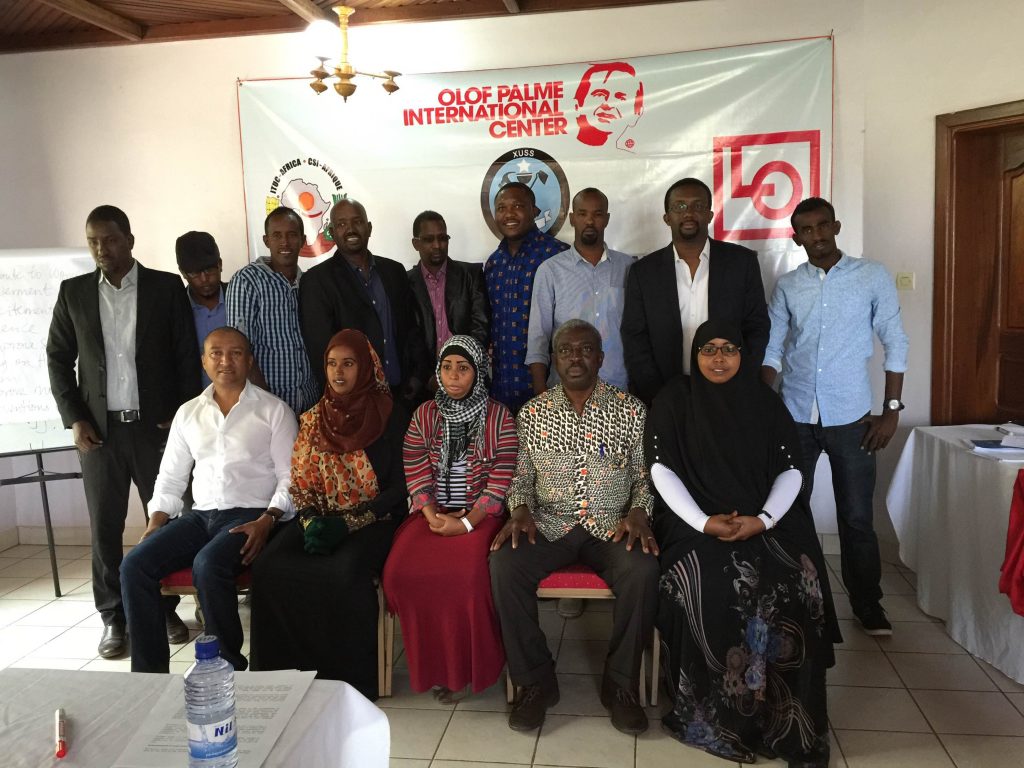 Human and Trade Union rights and their monitoring and reporting were at the forefront of discussions at a recent workshop held for Somali trade union activists in Rwandan capital Kigali.
Thirteen participants representing all ten unions affiliated with the Federation of Somali Trade Unions (FESTU) attended this workshop on Human and Trade Union Rights Reporting and Monitoring organised by the pan-African trade union confederation, ITUC-Africa, in conjunction withFESTU with the financial support of Stockholm-based Olof Palme International Centre and the Swedish Trade Union Confederation (LO) from 11-13 September 2015.
ITUC-Africa General Secretary, comrade Kwasi Adu-Amankwah, officiated the workshop which was hosted by the Rwandan national trade union centre, Centrale des syndicats des travailleurs du Rwanda (CESTRAR). General Secretary Adu-Amankwah reassured FESTU leaders and activists that ITUC-Africa is dedicated to bolster Somali trade unions and underlined the ITUC-Africa's undivided support for FESTU's fighting campaign and advocacy to defend and promote human rights of workers and trade unions.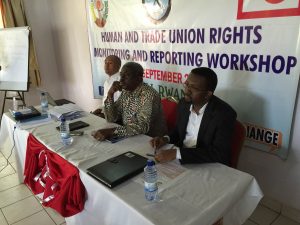 Speaking at the opening of the workshop, FESTU General Secretary, Omar Faruk Osman, said, "one of FESTU's founding principles is the advocacy of human and trade union rights of all workers". "From this activity, our sector unions will be able to document and report systematically human and trade union rights situation in our country. Should any Somali authority be found to be violating human and trade union right or an international human rights treaty, including ILO conventions that Somalia ratified, our unions are prepared to file a complaint at the intergovernmental body concerned."
The training workshop is a contribution from the Swedish Trade Union Confederation (LO) to the development of strong, independent, democratic and sustainable trade union movement in Somalia, working efficiently to defend and promote their members' interests and towards achieving social justice for all.
Very interactive and participatory, the workshop focused on exploring ways in which trade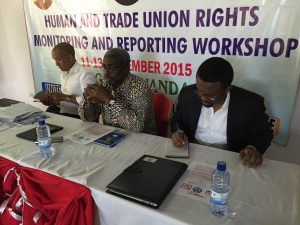 unions can build knowledge on how to campaign efficiently and advocate effectively, strengthen networking at national level and beyond, and reinforce trade union solidarity at national, regional and international levels.
Workshop participants reviewed the implementation of International Labour Standards that Somalia ratified and identified challenges and obstacles faced by FESTU and its affiliated unions in the context of setbacks to trade union rights in the country. They received training sessions on strategic campaigning to promote labour rights for all, to use ILO mechanisms, such as monitoring their respective governments' reports on ILO core conventions and how to file shadow reports.