110th Session of the International Labour Conference (ILC)
WORLD OF WORK SUMMIT
"Tackling multiple global crises: promoting human-centred recovery and resilience"
Friday 10 June (10.00 – 11.30), Room XX, Palais des Nations
Delivered by: Omar Faruk Osman – General Secretary, Federation of Somali Trade Unions (FESTU)
Combination of old and new challenges playing out in Somalia: multiple crises and challenges shaping the world of work and their consequences
Somalia's "new" challenges have in fact, revealed the pervasiveness of its "old" challenges. The COVID-19 pandemic, for example, highlighted age-old inequalities in labour protection, social protection, healthcare, productive employment, wellbeing and vaccine access. To best understand how the new challenges worked in the context of the old challenges, it is necessary to describe and analyse both.
Somalia has been imperilled to decades of civil conflict that has adversely impacted its economic, social and political development. The country has a poverty rate of 73% and 7 out of every 10 people are poor. Youth unemployment rate is 67%.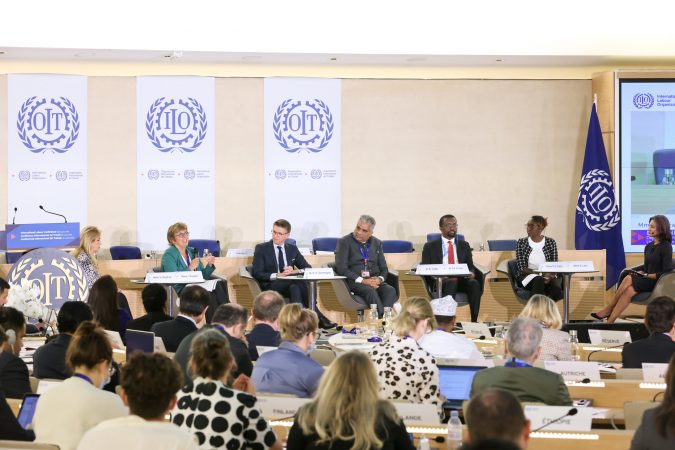 In 2019, the World Bank found that almost 9 out of 10 Somali households were deprived of at least one basic human need – money, electricity, education, or water and sanitation. Children under the age of 14 years represent nearly half of the Somali population and 73% of these children are trapped in the vicious cycle of poverty. Because of decades of devastating conflict, civic institutions remain weak; peace and security remain fragile amid the pervasive threats of terrorism attacks and media freedom is still some way off track.
Currently, there are 2.6 million internally displaced people in Somalia and humanitarian assistance is as essential as development intervention. Somali households depend largely on aid and remittances.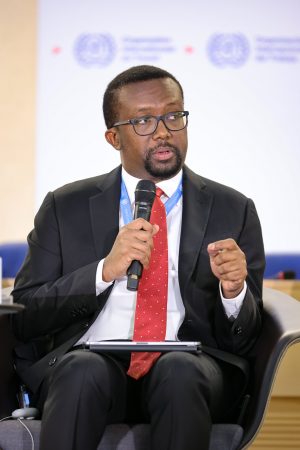 Before COVID-19, labour force participation was limited with just over half of the working-age population aged 15–64 (55%) employed mainly in the informal economy where working conditions are precarious. Only 43% of Somali women are actively engaged in the labour market compared with 67% of men. Most of the labour force was in the informal economy and often characterized by lower productivity, lower pay, limited social protection coverage, high levels of working poverty, and lack of basic rights. There are also more women than men in informal employment. Because there is no formal and government-led social protection programme for all in Somalia, approximately 96% of the employed is not covered by any employment insurance scheme.
Somalia has long experienced the negative effects of climate change – droughts, flash floods, erratic rainfall, rising temperatures, cyclones, sandstorms, dust storms etc. Somalia experienced severe drought between 2007 and 2016. In 2019, delayed rains resulted in another prolonged period of drought. This was followed by intense rainfall and flooding, leading to more than 370,000 people becoming displaced. In 2020, desert locust swarms then caused catastrophic damage to crops and livelihoods.
Now, let me turn to some of our "newer" challenges. One out of every five Somalis had to stop working following the outbreak of COVID-19, and four out of every five households reported reduction in their incomes and wages. Activities in the agricultural, energy, professional services sectors and informal economy were most disrupted. With the added shocks of the locust infestation and floods, 25% of households involved in farming or livestock production were not able to carry out their normal activities.
In Somalia, one year into the crisis, employment had contracted by 37%, with medium-size, large, and older firms shedding most of the jobs. The disruptive impact of the COVID-19 crisis on workers, labour markets, and livelihoods has further underlined the importance of the decent jobs' agenda.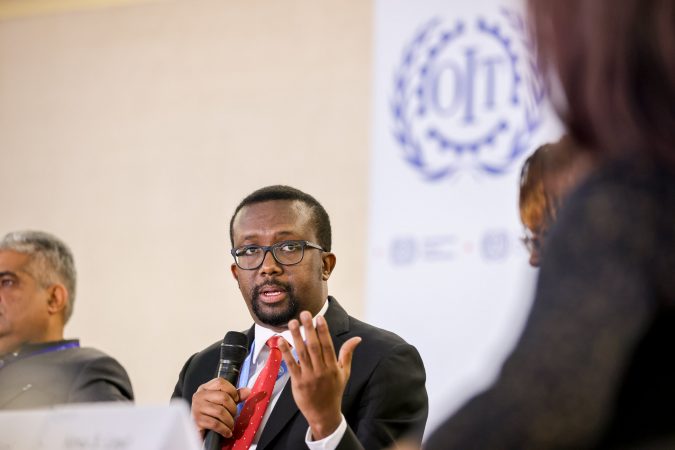 FESTU, with technical assistance from the ILO, conducted a survey and examination to provide an evidence–based account on the plight of workers. A total of 1927 workers completed the survey, 448 of whom were women. The survey findings highlighted the enormous strain that the COVID–19 pandemic is placing on Somali workers. The majority of respondents spoke of the lack of responsibility and consideration displayed by many employers for the dangers posed by COVID–19. Job insecurity, blatant disregard for health and safety precautions and failure to consult with workers and union representatives became the order of the day.
FESTU found that because of the COVID-19 pandemic, employers were reducing working hours and wages with little or no consultation with employees and/or union representatives. COVID–19 is also leading to an increase and overrepresentation of women in the informal economy or in precarious jobs, which has a direct impact on the health and wellbeing of household members.
Therefore, the new challenges are simply revealing the weak systemic and institutional framework in Somali society. It has showed up how poorly-resourced our healthcare facilities are, how little communities are poorly prepared to respond to the ravages of climate change, how precarious jobs are and that most people are trapped in destitution.
The pandemic highlighted increased levels of gender-based violence, a reality that only revealed the already existing wider gender and power gap between men and women in Somalia's endemic patriarchal society. The consequences of all of these are deepening poverty, inequality and underdevelopment. However, it represents an opportunity to address the systemic problems, the inherent inequalities in society and the chronic problem of underdevelopment. It presents an opportunity to build back better.
Enabling a human-centred recovery: A. Reform of the multilateral system to provide increased policy coherence B. Redirecting finance to least developed and other developing countries C. Ensuring environmental sustainability D. Better implementation of international labour rights E. More strategic public/private partnerships
In Somalia, all of these interventions are necessary. However, some, like better implementation of international labour rights, have found particular momentum in Somalia.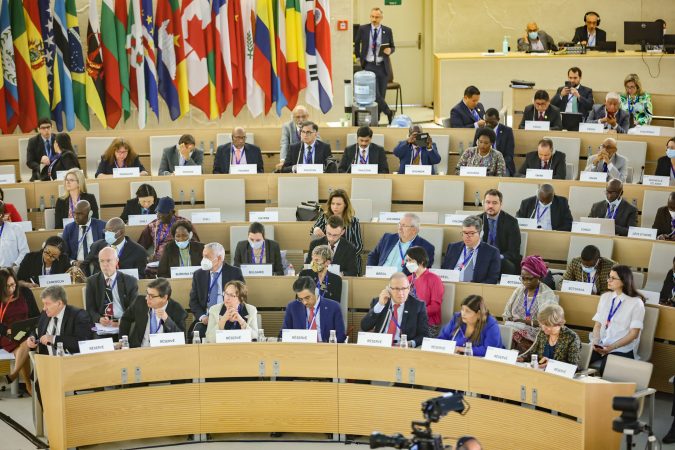 In 2021, the Federal Government of Somalia, following intense lobbying by FESTU, ratified ILO Occupational Safety and Health Convention (No. 155) and Promotional Framework for Occupational Safety and Health Convention (No. 187). These are particularly important in the current context given that many workers are operating in unsafe and unhealthy working conditions. Equally important is the ratification of ILO Convention 190 on violence and harassment at work, to protect women and men workers from all forms of violence and harassment including sexual assault.
The challenge is now to actualise these conventions and ensure they are domesticated and enforced in national legislations and policies. This will be our focus going forward. Similarly, we need greater awareness, at a political level, of how we actualise the ILO Recommendation 205 Employment and Decent Work for Peace and Resilience. This recommendation is important as it focuses on crisis and disasters, which affect workplaces worldwide.
During this period of conflict or crisis, including how the global pandemic is impacting the world of work, there is lack of social protection as public and private organizations cease to function effectively. Therefore, as inequalities and social exclusion increase, labour standards are often flouted, sowing the seeds of greater divisions and increased conflict. We need a better understanding of how to integrate the principles in ILO Recommendation 205 into national policy and legislation.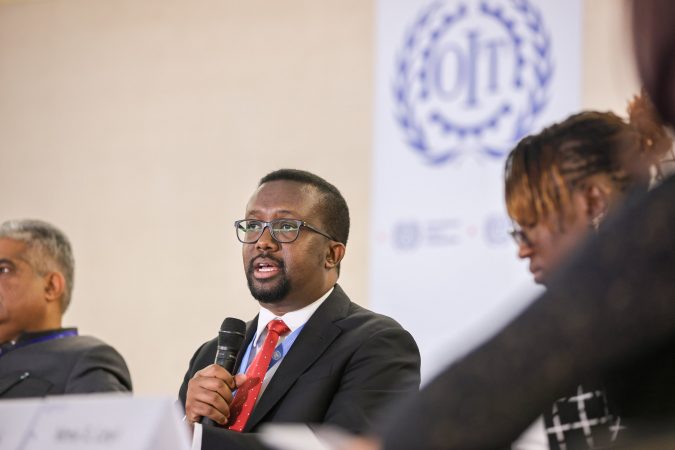 Somalia is also focusing on reform of the multilateral system to provide increased policy coherence, particularly in the area of social protection. With the burden placed on Somalia by multiple crises, the federal government and the federal member states, with the support of development partners, and in close coordination with social partners, expanded the safety net programs to cushion the effects on most vulnerable households. There were efforts to scale-up health sector and livelihoods financing, specifically supporting the design and launch of a cash transfer program, or Baxnaano, as it is known in Somalia.
This contributed to easing the strain on households. However, in addition to individual programmes, we need to encourage the government and its social partners to fast-track the implementation of Somalia's Social Protection Policy. Social protection must be understood as only one component of a poverty reduction strategy. We are focusing on our oversight roles as trade unions, and as civil society partners to the federal government and federal member states. The social protection policy in Somalia indicates that the government is to establish a functioning interagency coordination mechanism for implementing the Social Protection Policy led by the government and involving local authorities, trade unions, employers organisations, UN agencies, development partners, national and international NGOs, and civil society. We intend to ensure we are in those spaces.
We also believe that the key to addressing some of our newer and older challenges is by advocating to the government and its social partners to commit to adopting and implementing Somalia's Decent Work Country Programme. In this way, Somalia can fully benefit from the global Decent Work Agenda, with emphasis on decent employment, workers' rights, social protection and social dialogue. These elements are necessary for Somalia to attain peace, security and development and make reasonable progress towards the Sustainable Development Goals, particularly within the context of the COVID-19 pandemic and climate change induced calamities.
Inherent in this is Somali workers' desire for a new social contract with job creation as a key component for inclusive recovery and resilience after COVID-19. In addition to job creation, the new social contract must include enforcement of labour rights, social protection, equality for women and other marginalised groups, and inclusion.
To realise strategic public/private partnerships, we have begun to institutionalise social dialogue – bipartism, tripartism and tripartism-plus as vehicles for collective decision-making at all levels. To date, social dialogue has allowed government and employers to appreciate the importance of engaging a legitimate and credible workers' organisation on the centrality of workers' rights and well-being in socio-economic policy discuss.
Focusing on ensuring environmental sustainability, we have also been active in actions around the climate emergency and climate justice. According to a 2018 study by the African Development Bank (AfDB), Somalia has the highest renewable resource potential of all countries in Africa. As the country with the longest coastline in mainland Africa, an average of 10 hours of sunshine per day and high wind speeds, Somalia has great potential for solar power and onshore wind power. However, we continue to rely on imported fossil fuel, wood and charcoal for power generation for industrial and household energy-related activities.
In the run up to COP26 in Glasgow, we put forward a list of demands and the Federal Government of Somalia welcomed the priorities enlisted by the trade unions, particularly the commitment to Just Transition, prioritisation of renewable energy, reforestation, water resource management, irrigation, and the promotion of social dialogue to reach these goals. The senior government delegation attending COP26 highlighted and advocated for these issues during their engagements during the conference and made strong commitments. We will continue our work to ensure these promises translate to reality.